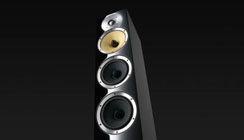 No other component determines the sound quality and character of your system more than your speakers. First, figure out where and how they will fit into your room. Bring in some of your favorite music if you like. Prepare to spend some serious auditioning time in the store, because this is where you'll find the most variation from model to model. In the end, it is time well spent.
Manufacturers
Bowers and Wilkins, based in Great Britain, is the best-selling line of audiophile speakers in the world. More classical recordings have been created with B&Ws than any other loudspeaker. Built with the highest quality materials and computer aided designs, B&W speakers offer years of revealing, uncolored music reproduction.
Equally at home in mastering studios as well as many music lovers' home listening rooms, Dynaudio speakers define quality. Every Dynaudio speaker is made in-house at their factory in Denmark. Known for their pristine, accurate sound, most Dynaudio products are also beautifully artful pieces of furniture.
Since the early 1990s, many have called Paradigm speakers the best sound/build quality vs. price available. Paradigms have been our go-to value speaker for years now and they just keep getting better as time goes by.