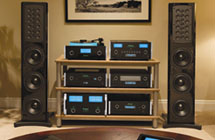 The centerpiece of any system is the collection of electronic components that drive your speakers. Creative Sound has decades of experience in helping you select the appropriate components to optimally run your system. Considerations include fidelity, input capabilities, amplifier power and reliability. We've selected the brands listed below based on these factors and the mutually beneficial relationships these manufacturers offer us, the dealer and the end-user.
Manufacturers
The ultimate in sonic performance, durability and pride of ownership, McIntosh has been making the finest audio components by hand in Binghamton, NY since 1950. Many Mac pieces are still going strong after 40 years and are on many music lovers' "bucket list".
For the audiophile on a budget, Rotel's award-winning components offer excellent sound quality. Very reliable operation and clean good looks combine with affordability to make Rotel the centerpiece of a high-performance audio or audio/video system.
Known the world over for their innovative yet classic amplifier circuits, NAD is the perfect step-up in sound quality over typical audio components. You can hear the difference with NAD.
Being the largest manufacturer of musical instruments in the world gives these folks an edge in the sound quality department. High quality, ease of use and high value are Yamaha hallmarks.
The most recent addition to our line-up is Anthem. Based in Canada, Anthem does A/V right! The philosophy is simple: design products that sound good and people will appreciate your efforts. So far, 100% of our Anthem customers have called us to rave about their new purchases!