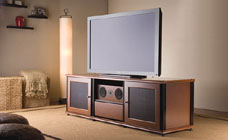 If you're purchasing a quality system, why hook it up with bargain accessories? Get the most out of your investment every day with these quality products designed to enhance and prolong your listening pleasure.
Manufacturers
Our first recommendation for quality cables, wiring and accessories, Tributaries tests every cable before it's shipped to ensure high performance and reliability.
Sanus manufactures a complete line of very high-quality mounts for almost any TV installation. Well-built and attractive cabinets round out the Sanus line.
Unique wire construction is the trademark of this wire and cable manufacturer from Utah. Kimber is our first choice for step-up and audiophile cables.
With a wide selection of attractive A/V furniture, Salamander is one of the only companies in this category that allows you to custom-design the optimum showcase for your electronic gear.
The rave reviews of Grado headphones go back decades, not just to the dawn of the iPod era. This Brooklyn-based, family-owned company has been making pure-sounding headphones for decades.
Well known in the professional audio world, Furman manufactures power distribution and protection components to ensure your gear is protected from AC power disasters.
By now, you iPod lovers have probably seen the incredible B&W Zeppelin iPod playback system. The Zeppelin's unique design complements its amazing sound quality. Check out B&W's new P5 headphones, too.